ELG Utica Alloys is one of the world's leading specialists in revert management and high-performance alloys and metals. The company processes, sources, and supplies high-performance alloys and metals, including nickel alloys, cobalt alloys, titanium, tungsten carbide, molybdenum, tungsten, niobium, and tantalum. Headquartered in Duisburg, Germany, the company has nine operating sites as well as six sales offices all over the world. ELG Utica Alloys supports a global client base in the aerospace, oil and gas, power generation, and engineering industries.
CHALLENGE
ELG Utica Alloys was looking to reduce energy usage and take advantage of utility incentives; ELG Utica Alloys chose FES given our extensive experience operating as a liaison to Eversource Energy with other businesses looking to implement conversion measures at their facilities.
SOLUTION
FES conducted an energy audit and identified a variety of savings for ELG Utica Alloys. A total of 1,349 lights were converted to high-efficiency LED lights. The facility's duct collection system was retrofitted to optimize performance.
RESULTS
As a result of FES's energy recommendations, ELG Utica Alloys realized an immediate energy savings of $216,305 per year. In addition, the conversion to LEDs cut down the wattage usage by over 50% per light fixture, saving ELG Utica Alloys 29% of their total annual energy costs. The company also earned a very short payback period of less than two years, which resulted in additional savings.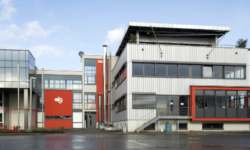 EXECUTED BY
Environmental Systems Co.
CLIENT
ELG Utica Alloys
CLIENT REFERENCE
Michael Koenig
Chief Financial Officer
SCOPE OF THE PROJECT
LED Lighting, Duct Collection System Retrofit
PROJECT TYPE
Energy Solutions
PROJECT SIZE
1,349 lights replaced with LED
BUILDING TYPE
Manufacturing
FES TEAM MEMBERS/ROLES
Jack Cunningham, Director Energy Solution Sales
Jamie Sykora, Energy Project Manager