Devcon Commons in Enfield, Connecticut and Devcon Shops in Westfield, Massachusetts are large regional retail centers, anchored by several national tenants and seeing a high volume of traffic.
CHALLENGE
Fidelity Energy & Sustainability was approached to develop a solution to enhance visibility and increase safety. Opportunities to improve the quality of the existing lighting in the parking lot were identified, with the added benefit of reducing operating and maintenance expenses.
SOLUTION
Between the two properties, over 211 canopy and wall-mounted fixtures and 66 1,000 watt High Intensity Discharge (HID) pole-mounted lights were upgraded to high-performance 380-watt LED fixtures, which resulted in light levels that nearly tripled the previous levels in the parking lots at both plazas. Customizable motion sensors support dimming down by 30% when areas are unoccupied.
RESULTS
Fidelity Energy & Sustainability security utility incentives of nearly $88,000, delivering a turnkey solution that will reduce electric consumption by 55% and result in nearly $67,000 in annual savings. After virtually eliminating associated maintenance-related costs, savings of over one million are expected for the life of the fixtures.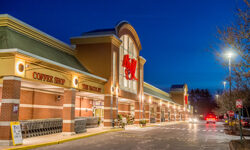 EXECUTED BY
Environmental Systems Co.
CLIENT
Devcon Properties
CLIENT REFERENCE
Lane Barry, Property Manager
SCOPE OF THE PROJECT
LED Lighting
PROJECT TYPE
Energy Services
PROJECT SIZE
211 canopy and wall-mounted fixtures, 66 pole-mounted lights
BUILDING TYPE
Retail
FES TEAM MEMBERS/ROLES
Patrick Burns, Account Manager
Daniela Iozzo, Project Manager