US Button / Emsig Manufacturing, founded in 1928 and managed by third and fourth-generation family members, produces high-quality buttons that are distributed worldwide. The company's Putnam, CT facility employs more than 80 people and has approximately 90,000 square feet of space, including production areas, meeting spaces, and offices.
CHALLENGE
US Button was looking to improve energy costs and equipment reliability without shutting down operations. After learning of Fidelity Energy & Sustainability's expertise as a customer liaison to Eversource Energy, US Button hired FES to make major mechanical and lighting upgrades to an active manufacturing facility with approximately 60 employees that operates 5 days per week in two shifts from 6:00 am to 11:15 pm.
SOLUTION
Despite the constraints of working in an active manufacturing facility, FES completed many upgrades. Highlights of the work included the design and installation of two dozen custom removable insulation jackets for steam system pipes and components to prevent heat loss, the upgrade of over 1,000 existing lighting fixtures to efficient LED retrofits throughout the facility to brighten workspaces, and the replacement of an old compressor with two compact, highly efficient compressors to reduce energy consumption and motor noise. An ultrasonic air study was performed to identify and repair air leaks.
RESULTS
All measures that were implemented were eligible for utility incentives and completed over a span of three months with no interruption to production. US Button secured a $222,500 utility incentive to assist in funding their capital improvements. US Button has decreased its annual utility costs by one-third with these energy efficiency measures.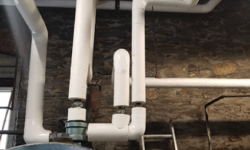 EXECUTED BY
Environmental Systems Co.
CLIENT
US Button Corporation
CLIENT REFERENCE
Burt Elliott
Chief Operations Officer
SCOPE OF THE PROJECT
Steam System Insulation, Lighting Upgrades, Air Compressors, Boiler Conversion to Natural Gas, Steam Trap Survey and Replacement
PROJECT TYPE
Energy Solutions, Mechanical Services
PROJECT SIZE
Replaced 1,000 lights with LED, repaired 70 steam traps
BUILDING TYPE
Manufacturing
FES TEAM MEMBERS/ROLES
Jack Cunningham, Director Energy Solution Sales
Jamie Sykora, Energy Project Manager